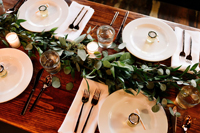 A Planner, Coordinator, and a DJ Walk Into A Bar…
Actually, they walk into a wedding. Couples (and even some wedding professionals) often don't understand the difference between a Wedding Planner, a Wedding Coordinator, and a Venue Coordinator. It's important to know the difference between the three, and to also know that it's important they work with your DJ (no matter what their title is).
I spoke to Karen Hirsh with Perfectly Celebrated to get some clarification, and was even a little surprised by some of the information she provided. Her company offers Wedding Day Management (aka Day-of-Coordination) and Officiating Services in the greater Cleveland area.
"I offer Wedding Day Management Services – and there's a reason I call it that. Day-of-Coordination is such a misnomer, for a few reasons. First of all, no one can come in on the day of your wedding and know what to do to help you. Also, I'm booking clients up to a year and a half in advance. I think this service is best for couples who want to do most of the planning themselves, but need professional assistance on the day of the wedding to make sure everything runs according to plan. There are a lot of moving parts to a wedding, and it's such a relief to couples and their families and friends to have people looking out for their best interests.
A Venue Coordinator certainly can be helpful at your wedding, but at the end of the day, they work for the venue – not for the couple (make sure to find out exactly what they are responsible for). A Wedding Planner can be a lifesaver for those who really want to have assistance from the very beginning – and the cost of full wedding planning will reflect that."
As a DJ, I like to work closely with that point person because it's important that we're all on the same page about the activities of the day. Karen says that one of the first people she speaks with prior to the wedding is the DJ. "I become the point of contact for all the wedding professionals about two weeks prior to the event. I always go over the timeline with the DJ – it's imperative that all of the wedding professionals work together. We have a common goal, and that is to make our couple's wedding day the best day ever!"
If my couples don't have a planner or coordinator, I'm happy to help them with their timeline and most of the activities that will be happening throughout the day. This specific knowledge comes along with the 30 plus years of experience I have in the wedding industry.
There's no wedding professional who is more important than another. While we each have our own responsibilities, teamwork amongst all of the pros is what will take your wedding from ordinary to extraordinary.